DISGUISE D3, best event tecnology in Italy!
Recognised as one of the most significant new event technology in the last few years, our professional event team are thrilled to announce the new arrival, "Disguise D3", finally available in our event tecnology warehouse located in Rome and Milan.
More than a media server for event, Disguise is an integrated corporate and artistic show creation platform that supports your team through all stages of production, from initial concept, all the way through to showtime. They are now available in Italy!
From live events, corporate roadshow, theatre, convention production and tv broadcast, Disguise has brought a new way of working.
Today, Disguise works with some of the world's most talented visual designers, giving them powerful technologies to conceive, plan and visualise experiences at the highest level of corporate events.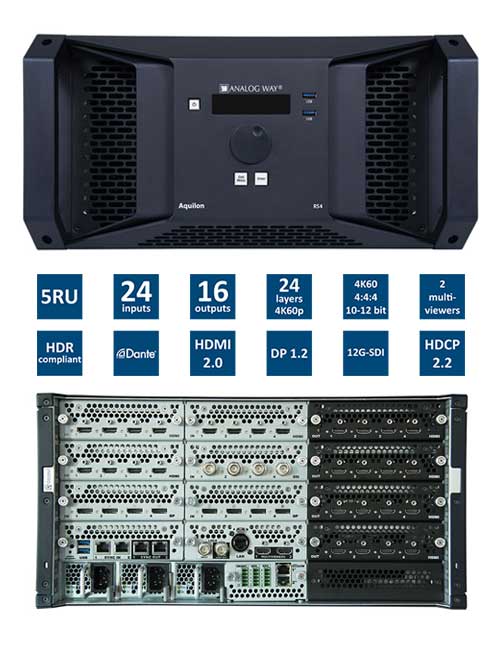 ANALOG WAY – AQUILON RS4
Aquilon RS4 is a mission-critical 4K/8K multi-screen presentation system and videowall processor with 24 inputs and 16 outputs, delivering uncompromising presentation experiences to high-end staging and premium system integration.
Aquilon RS4 combines industrial grade reliability, unrivaled ease-of-use, versatile 4K digital connectivity, unmatched real-time 10/12-bit 4:4:4 video processing power, best-in-class image quality and pure 4K60p on each input and output with ultra-low latency.
24 Seamless Inputs
16 Active Outputs
2 Dedicated Multiviewer Outputs
Native Dante™ Audio networking
Flexible Screens and Layers Management
Up to 24x 4K60p Layers
Ultra-low latency 10 and 12-bit processing
Creative Display Configurations
Advanced Video Effects
24 Concurrent 4K Still Images
At Eventi-x we are proud to offer to the clients, all the best technologies and solution to make their special events.
For more details, don't hesitate to contact our commercial team using the form below.